Pakistan eyes CPEC-style economic cooperation with Saudi Arabia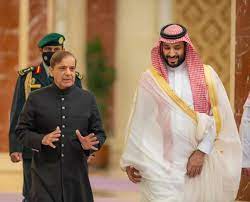 Islamabad: Federal Minister for Planning, Development and Special Initiatives has expressed Pakistan's wish to establish China–Pakistan Economic Corridor (CPEC)-style economic cooperation with Saudi Arabia as well.
Addressing the Pakistani community at Pakistan's consulate in Jeddah, Iqbal said: "We want to establish CPEC-style economic cooperation with Saudi Arabia as well. Based on CPEC, a joint investment offer has been made to China and Saudi Arabia."
The minister mentioned that the government has reinitiated fast paced work on CPEC projects. The minister added that the Pakistan's economy was at stake and CPEC was very important. "The government improved the state of economy by adhering to the International Monetary Fund's (IMF) policies," he maintained.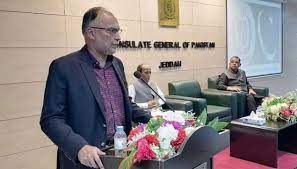 Ahsan emphasized on the significance of overseas Pakistanis referring to them as strategic partners. "Overseas Pakistanis are a valuable asset for the country. An insurance scheme will be introduced for them," he contended.
Earlier on Sunday afternoon, ruling Pakistan Muslim League (Nawaz) leader Chaudhry Naeem Karim said that the CPEC was a game-changer project for the construction and development of the country.
In a statement issued here, Karim highlighted that when the PML-N took charge of the federal government, the economy of the country was destroyed and the work on the Gwadar Port and CPEC projects was stopped.
"The PML-N led government took tough decisions to accelerate the pace of work on the Gwadar CPEC projects by constantly communicating with the Chinese government," he added.
Karim claimed that the country's economy was improving in the country due to positive measures of Federal Minister for Finance Ishaq Dar and "we have always paid our debts on time."
He underlined that due to Prime Minister Shehbaz Sharif''s personal interest, the work on the CPEC projects in Gwadar and other areas has been started again and these development projects would be completed soon, which could provide employment opportunities to people and foreign investment would be increased from completion of the CPEC project.