Agreement signed to provide free technical education to Gwadar's youth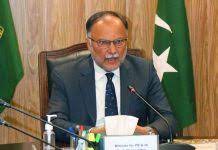 Islamabad: In a major development at Gwadar, the signing ceremony for the joint operation agreement of Pak-China Technical and Vocational Institute (PCT & VI), built with a Chinese grant under China Pakistan Economic Corridor (CPEC), was held at Gwadar Business Center on Wednesday.
The joint operation agreement was signed among Shandong Institute of Commerce and Technology (SICT), Gwadar Port Authority (GPA), The University of Gwadar (UoG), and China Overseas Ports Holding Company (COPHC) for providing free of cost six-month short courses and three-year diploma programmes with hands-on technical and professional training to thousands of youths of Gwadar, according to a message received here on Wednesday.
The participants of the students of the first batch of representative students from University of Gwadar, local employees of COPHC, GPA and COPHC officers. While teachers and officers from SIC joined the ceremony online.
Pak-China Technical and Vocational Institute (PCT & VI) was gifted and handed over by the Chinese government to GPA in September 2021 with an intent to train, prepare and equip the youth of Gwadar / Makran / Balochistan with skill sets for the future needs of Gwadar port, Free zones, smart city, new international airport and other CPEC projects pertaining to commerce, marine industry, market-based businesses, modern fish practices, real estate, tourism, construction and hospitality and other allied industries.
As per the joint operation agreement, GPA is responsible for supplying spaces and supporting facilities to meet the requirements of teaching, office, and accommodation in the existing new building of PCT & VI. It will cooperate with all government departments to handle relevant procedures as per Pakistan laws and regulations.
It will also coordinate with COPHC for internship and preferential employment of qualified students of PCT & VI. University of Gwadar will be responsible for the operationalisation of the institute at international standards. It will coordinate with GPA for daily managing, academic and administrative activities, operating expenses.