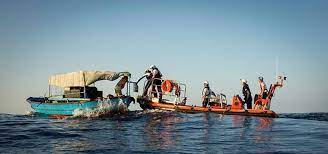 Rome: Thousands of migrants arrived in Italy during the first months of the far-right government led by Premier Giorgia Meloni, soaring almost 50% since the end of October, in contrast with the promises of the fiercely anti-migrant coalition parties.
According to Interior Ministry data, the new government's first two full months in office – November and December – saw almost 20,000 migrants arrive by boat, a sharp jump from the same months a year before, when there were 12,600.
The first 10 days of 2023 showed an even more dramatic surge: 3,709 arrived so far this year, compared to just 378 in the same period of 2022.
Despite the government's claims of a slowdown in arrivals, landings also intensified in recent weeks, reaching nearly 4,000 last weekend.
Migration policies remain crucial for the Meloni government, which has pledged to crack down on illegal departures from North Africa and other poor or war-torn countries.
Migration issues are also at the core of the upcoming European summit on Feb. 9-10, which Meloni is expected to attend.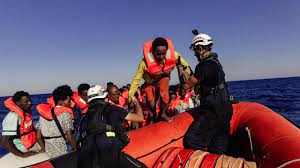 The complaints of the Italian government, which stressed the burden the country has to bear due to the constant flow of migrants hitting its shores, clash however with recent data on asylum applications.
In September alone, France received around 15,000 asylum applications, Germany almost 21,000, Austria around 15,700 and Spain more than 11,000, compared to only 8,500 for Italy, according to EU statistics agency Eurostat.
Italian Interior Minister Matteo Piantedosi has claimed that the fresh wave of boat arrivals has been favored by better weather conditions and that recent data are only "partial."
In recent months, Piantedosi has been involved in an open conflict with NGOs operating in the Mediterranean, accused of helping the departures of migrants from Africa, as they promise to rescue them when in distress at sea.
Vessels operated by humanitarian organizations – including Doctors Without Borders (MSF) and SOS Mediterranee – have been often denied access to Italian ports to disembark migrants rescued at sea, with the Meloni government refusing to assign the vessels a safe and closer port.
Piantedosi accuses humanitarian ships of posing a "pull factor" that encourages migrants' departures. He also said that Italian authorities are investigating possible ties between NGOs and human traffickers.
Meloni has repeatedly asked the EU to do more to protect its borders and to halt the departure of migrant boats from North Africa.
Meloni also stressed that EU relocation policies for migrants are not working for Italy, which has been left alone to handle an increasingly difficult situation.
Meloni and her anti-migrant Brothers of Italy party clinched a sound victory in Italy's September elections, pledging a hard-line stance on illegal immigration.
One of her most controversial electoral promises was to impose a "naval blockade" in the Mediterranean, to halt migrants from arriving in Italy and break the chain of human trafficking.