Gwadar Port Authority announces internship program for fresh graduates from Balochistan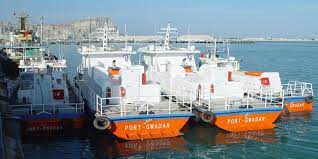 Quetta: Gwadar Port Authority (GPA) has announced an internship program for fresh graduates to equip the youth of Balochistan with skills required for ongoing and new projects.
Under the program, in collaboration with Gwadar Port Authority, Ministry of Maritime Affairs and Planning Commission, young engineers would be involved in the installation of 1.2 Mg ROD (Reverse Osmosis Desalination) Plant and Sewage Treatment Plant in GPA Housing Complex in Gwadar, employment to be given to youth in two projects.
Fresh graduates with a domicile in Balochistan under 30 years of age can apply for the internship program. The duration of the internship programs will be one year and ten students – five in each project – will be selected, the GPA announced.
The 1.2 MGDRO development Plant is being set up with a Chinese grant of about $12.7 million to purify seawater and to supply it to the people of Gwadar city, the source said adding that Sewage Treatment Plant for GPA Housing Complex Gwadar was another important project of Gwadar for which the Federal government had allocated 51.89 million rupees in the budget of the financial year 2022-23.
The Gwadar Port Authority is a body for the construction, operation, management and maintenance of Gwadar Deep Water Port. It is the second great monument of Pakistan-China friendship after the Karakoram Highway connecting Pakistan and China.
The program will be run under the National Development Internship Program (NDIP) and it will be a unique experience for new graduates or diploma holders to acquire skills required for better jobs and various projects.