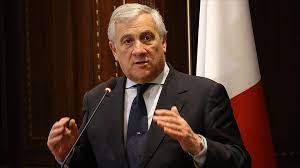 Rome: Italian Foreign Minister Antonio Tajani has acknowledged Ankara's key role in ongoing work to resolve the Russia-Ukraine conflict and said Italy supports Türkiye's efforts for peace.
"Rome today supports Ankara's negotiating efforts for a solution to the ongoing conflict between Russia and Ukraine," said Italian Deputy Prime Minister and Foreign Minister Antonio Tajani, who was in Türkiye on Friday as part of a working visit.
"Türkiye plays an important role in starting the negotiation process toward peace thanks to its geostrategic position and relations with all parties," Tajani said, adding that it was critical for efforts to persuade Russia to continue until Moscow is open to talking about the conditions for a cease-fire and then "negotiations over a just peace under Kiev's full ownership."
Asserting that there would be "no peace without justice," the Italian foreign minister said Türkiye, along with other international players, "can certainly make a difference at the diplomatic level."
"The grain deal was a prime example of this and Italy applauded the positive outcome of the facilitation process led by Ankara," he added, referring to an agreement that Türkiye, the UN, Russia, and Ukraine signed last July to resume grain exports from three Ukrainian Black Sea ports, which were paused after the war began in February 2022.
Noting that Italy contributed 2 million euros ($2.16 million) last November by signing the refinancing of a bilateral emergency fund of the World Food Programme as a booster to the grain initiative, Tajani said: "The donation of grain from Ukraine to countries in acute food insecurity is a demonstration of our collective will to avoid that people around the world suffer from the consequences of the Russian aggression."
Tajani said that Italy also launched, with the support of the UN's Food and Agriculture Organization (FAO), a ministerial dialogue on food security in the Mediterranean.
"Türkiye has accepted to co-chair this initiative and to play an active role in the identification and implementation of collaborations with countries of the Mediterranean in order to counter the challenges they are facing due to the disruptions in the global commodities trade caused by the conflict," he said, adding that this was further proof of "our strengthening bilateral relations."
Asked about the common ground between Türkiye and Italy on overcoming the political stalemate in Libya, Tajani said: "Stability in Libya is crucial for the stability of the whole Mediterranean Sea, as well as for NATO's southern flank."
"Italy and Türkiye share a strong commitment to Libya's sovereignty, territorial integrity, and national unity," he added.
"Our countries are among Libya's top economic partners, and we both want to see Libya finally stabilized and prosperous."
"We have repeatedly called for free and fair elections in Libya and we are both fully supportive of the UN efforts in facilitating a Libyan-owned comprehensive political solution," he said.
Tajani also underlined that relations between Türkiye and Italy were based on "longstanding cultural ties and on a common Mediterranean identity."
Ties between them have consolidated over time "thanks to a fruitful political dialogue and increasingly close economic-commercial relations, also thanks to vibrant exchanges between civil societies," he added.
Noting that bilateral trade between the two countries reached record levels in the last couple of years, Tajani said that the figure was expected to reach $5 billion in 2023.
"With Türkiye being a leading economic and trade partner for Italy," Rome shares the goal of reaching a bilateral trade total of $30 billion in the coming years, he added.
"Thanks to the presence of more than 1,500 Italian companies in the country, we must work towards seizing the opportunities offered by the shortening of 'supply chains' throughout the world."
Pointing to a common vision on many security issues between Italy and Türkiye, the Italian foreign minister said the two countries were "strongly committed to fostering international and regional stability."
"We share common views on managing migration in the Mediterranean area, and we are ready to cooperate more closely in order to fight against terrorism in all of its forms and manifestations as well as human trafficking and to stop illegal departures," said Tajani.
Noting that cultural cooperation between the two nations gained "full-speed" momentum following the coronavirus pandemic, he said that thanks to cooperation agreements within the EU framework, the number of Turkish students in Italian universities had also reached all-time high levels.