Pakistan-US relationship is 'deep', not 'artificial or crafted': Masood Khan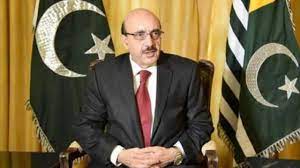 Washington: Pakistan is keen to have strategic, political and economic ties with the United States and right now the two countries are investing in bilateral diplomacy to achieve these objectives, Ambassador Masood Khan has said.
"It is not an artificial or crafted relationship. There is a natural aspiration for it on both sides," Masood Khan, the envoy to the US, said at World Affairs Council, a think-tank, in Seattle, Washington.
"But", he added, "it is the people of Pakistan and the United States who provide the real strength to Pak-US relations."
The presence of 1 million Pakistanis in the United States, comprising mostly of professionals, was "a strong bond and an abiding link' between the two countries, he said.
Ambassador Asif Chaudhry, a former ambassador at State Department and Vice President for International Programmes at Washington State University, moderated the event.
The roots of the Pak-US relationship were deep, and during the past year the two countries have clarified their intent to continue their cooperation in strategic stability, regional security and counter-terrorism, he said. "At the same time, we were promoting closer ties in trade, investment, agriculture, health, education and energy sectors."
"The climate change is a shared challenge for both the United States and Pakistan and there exists a huge scope of expanding our relationship in building a climate resilient infrastructure in Pakistan," the Pakistani envoy said. "I remain confident that Pakistan and the United States remain relevant to each other in the years to come."
On strengthening bilateral economic ties and investment climate in Pakistan, the Ambassador highlighted COVID-19, fuel and food hyperinflation and the recent devastating floods as the major debilitating factors that affected Pakistan's economy. He, however, emphasized that the economic prospects in Pakistan were "bullish".
"The fundamentals of our economy are good. We will bounce back. We are part of international economic mainstream."
Encouraging business community to invest in Pakistan, Masood Khan highlighted recent impressive growth of the country in tech sector and 64% of the youth population below the age of 30 as a valuable asset of the country.
On a question about Pak-India relations, the Ambassador, while regretting absence of any communication between the two nuclear-armed neighbors, said that Pakistan was ready to talk but India has preferred non-engagement in recent past.
"We want the United States and particularly the US civil society to get involved, use its leverage to persuade New Delhi into a dialogue with Pakistan for resolving long-standing issues, especially Jammu and Kashmir dispute, on a negotiating table," he said.
On Pak-Afghan relations, the Ambassador said that there was a volatility in bilateral relations owing to hideouts of Tehreek-i-Taliban Pakistan (TTP) in Afghanistan.
Masood Khan reiterated Pakistan's principled stance that it would not tolerate terrorism in any form against Pakistan.
The ambassador said inclusive government, protection of rights of girls and women and counter-terrorism were shared objectives of both Pakistan and the United States vis-à-vis Afghanistan.
On recent floods in Pakistan, Masood Khan said that Pakistan needed the international community's solidarity and support in the wake of devastating floods last year.
He said that Pakistan was grateful to the international community for the support provided to the country at the recent Geneva Conference.
He thanked the United States for announcing US$100 million, in addition to US$ 100 million already contributed for flood response, food security and capacity building.
The Ambassador concluded his remarks by urging the audience — both present in-person as well as attending the event virtually — to have faith in Pakistan; to have faith in Pak-US relations and also to play their part in removing misgivings about the two countries and its people. "Misperceptions should be replaced by genuine positive images and perceptions," he said.