Pakistan, Saudi Arabia ink agreement for arrangements of Hajj 1444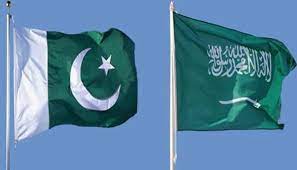 Islamabad: Saudi Minister of Hajj and Umrah Dr Tawfiq bin Fawzan Al-Rabiah on Saturday welcomed the Pakistani delegation led by Minister for Religious Affairs and Interfaith Harmony Mufti Abdul Shakoor and signed an agreement with regard to the arrangements for the Hajj season 1444 AH.
On the occasion of Hajj Expo 2023, the Saudi Minister of Hajj and Umrah signed several collaboration agreements with various countries while meeting with various delegations, said a statement.
These agreements came under the development initiatives offered by the Kingdom to improve the experience of pilgrims during Hajj, Umrah and Ziyarat.
The agreement with Pakistan includes the allocation of Hajj quota, airports and means of arrival and departure as well as the organizational guidelines that are related from the beginning of the trip to the pilgrims' return from the Kingdom of Saudi Arabia (KSA), as they are the guarantors of their safety and comfort.
Hajj Expo 2023 is the largest gathering related to Hajj and Umrah, as it brought together over 60,000 visitors from more than 57 countries, besides it gathered 81 speakers from the public and private sectors from inside and outside the Kingdom, and 200 companies specializing in the field of Hajj and Umrah.
This large gathering was an opportunity to exchange concepts, ideas, inventions and experiences, and it also provided a platform for all the countries to sign their agreements and discuss the affairs of their citizens before the Hajj and Umrah season.
It is to be noted that the conference covered forty workshops in four days, apart from nine keynote sessions, on a number of topics related to enhancing the experience of pilgrims, using digital services, and building an integrated and sustainable system. The main objective of the activity is to expand the scope of services and achieve the goals of Saudi Vision 2030.
All these efforts come within the framework of the KSA to provide the best services to the guests of God through the joint efforts of the Hajj programme and all public, private sectors, businessmen and partners around the world besides logistics, security and technology, the work to improve their experience at all cultural and knowledge levels.