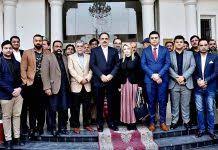 Peshawar: Sarhad Chamber of Commerce and Industry (SCCI) conducted a consultative session titled "How to increase export to China" at the Chamber House here on Sunday.
The meeting was presided over by SCCI's Senior Vice President Shahid Hussain, while the Chamber's Vice President Ejaz Khan Afridi, member of executive committee Ms Qurtul Ain, former executive member Zahoor Khan, Vice Chairman, SCCI Standing Committee on Land Route Naeem ur Rehman, Coordinator of SCCI Research and Development Cell Ishtiaq Ali and Research Officer Ms Sumaira attended the session, said in a press release.
The main purpose of the meeting was to hold discussions on several proposals regarding the increase of exports to the People's Republic of China.
In this study meeting, it was discussed in the light of a research of the possibility of enhancing export to China both through sea and land routes, especially through those provinces and areas in proximity to Pakistan.
During the discussion, it was identified that the seaport was quite far away and instead through the seaport, export to China of Khyber Pakhtunkhwa and Punjab manufacturing products through Sost route is very feasible and appropriate.
If a feasibility study is prepared of various cities of KP and Punjab province, a comparative analysis regarding freights and fares, duration and expenses could be made. Therefore export through seaport can also be enhanced besides land routes, the participants of the meeting said.
In the meeting, it was also discussed about expenses, fares and freights and time consumption during export to China through seaport.
Shahid Hussain told the meeting that import from Afghanistan and re-export to China was being carried 100 percent through seaport route. The meeting discussed the enhancement of export of essential items and products import from Afghanistan and re-export to China through land routes.
The SCCI's SVP viewed that employment opportunities would be generated with promotion of economic and trade activities in Khyber Pakhtunkhwa, Gilgit Balistan and Hazara division.
The meeting also discussed the enhancement of export with China through the Sost border. The meeting noted that fares, freight, time and expenditures would be saved by export to China through land route along with seaport route.
Shahid Hussain said SCCI will also hold a comparative analysis of the export through land routes, how much it would bring positive impacts on the country's economy, exports, trade and businesses.
On this occasion, the participants presented various proposals and suggestions and agreed that weekly review meetings will be held and minutes of the meetings will be shared with federal relevant ministries and departments concerned.
Shahid Hussian said the SCCI is conducting a comparative analysis on positive and negative impacts, angels and aspects of export to China through seaport and land routes.