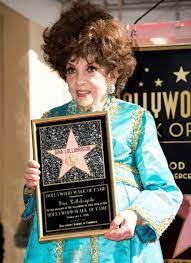 Rome: One of the last icons of the Golden Age of Hollywood, Italian actress Gina Lollobrigida, whose death at the age of 95 was announced Monday, was famed for her biting wit and sensual beauty.
Bringing much-needed glamour and pizzazz to the post-war period, she stirred hearts whether as an onscreen gypsy, queen or single mother.
Humphrey Bogart, who she starred opposite in her breakthrough movie "Beat the Devil" in 1953, said Lollobrigida made "Marilyn Monroe look like Shirley Temple."
Best known for Luigi Comencini's 1953 classic "Bread, Love and Dreams", and Jean Delannoy's 1956 "The Hunchback of Notre Dame", Lollobrigida starred with many of the leading men of the time, including Errol Flynn and Burt Lancaster.
While she had a "crazy good time" with a playful Bogart, not all the shoots were as fun.
Her co-star in wartime romancer "Never So Few", Frank Sinatra, had "zero sense of humour", she told Variety in 2018, when she received a star on the Hollywood Walk of Fame.
Luigia "Gina" Lollobrigida was born on July 4, 1927 in Subiaco, a mountain village 50 kilometres (30 miles) east of Rome.
She began to study sculpture after her family moved to the capital, supporting herself by singing and modelling before attracting the attention of Italian film producers. She said her entry into acting was an accident.
"I refused when they offered me my first role. They insisted again… So I told them my price was one million lire, thinking that would put a stop to the whole thing. But they said yes!" she told Vanity Fair.
Italians then dubbed her their answer to Elizabeth Taylor after her signature movie "La Donna Piu Bella del Mondo" ("The Most Beautiful Woman in the World") in 1955.
She had an infamous long-standing rivalry with fellow Italian diva Sophia Loren.
When Loren claimed she was the "bustier" one, Lollobrigida hit back, saying Loren could play a peasant, but never a lady, according to the Hollywood Reporter.
Affectionately dubbed "La Lollo" by fans, she played the queen in "Solomon and Sheba" in 1959 and a single mother in "Buona Sera, Mrs. Campbell", garnering a Golden Globe nomination for her performance.
A cinema sex symbol, she was pursued for years by US tycoon Howard Hughes, who brought her to Hollywood, and by Prince Rainier of Monaco, at the time still married to Princess Grace.
"I've had many lovers and still have romances," she was quoted by several British newspapers as saying in 2000. "I am very spoiled."
She was married in her early 20s to Slovenian doctor Milko Skofic, with whom she had a son before they divorced in 1971.
In 2006, aged 79, she announced plans to marry Spanish long-time partner Javier Rigau Rafols, 34 years her junior, but they split up a year later.
Lollobrigida accused him in 2013 of having tricked her into signing documents allowing him to marry her by proxy, with a stand-in, in a civil ceremony in Spain.
"My experience has been that, when I have found the right person, he has run away from me," she told Vanity Fair magazine in 2015. "I am too strong, too popular." The marriage was annulled by a Vatican court in 2019.
Lollobrigida won seven David di Donatello awards during her career, Italy's Oscar equivalent. But by the 1970s she had turned from acting to sculpture and photojournalism, including getting a scoop interview and photo shoot with Cuban leader Fidel Castro.
She travelled the world, snapping celebrities from Henry Kissinger to Indira Gandhi, Maria Callas, Liza Minnelli, Salvador Dali, Audrey Hepburn and Ella Fitzgerald.
She also nurtured political ambitions: in 1999 she ran, unsuccessfully, for a seat in the European Parliament.
She was back in the spotlight in 2021, amid a bitter legal battle with her son over her fortune.
Italy's Supreme Court ruled that she needed a legal guardian to stop people preying on her wealth, because of a "weakening" in her perception of reality.
Despite that, in 2022 she attempted once more to enter politics, with a failed bid for a seat in the Italian parliament.
In a 2019 interview with AGI news agency, Lollobrigida said she wanted to be remembered for more than just her work in cinema. "For my sculptures and above all for my photography."