KP Governor signs assembly dissolution advice to save nation's time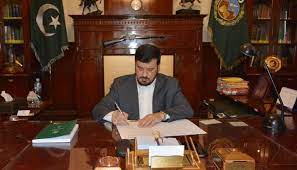 Peshawar: Governor Khyber Pakhtunkhwa, Haji Ghulam Ali Wednesday said that instead of wasting two days, he had signed the advice of the Chief Minister for dissolution of the provincial assembly with immediate effect.
Talking to the media persons here at Governor House , he said that the purpose of his immediate signing of the summary was to save the nation from two days of confusion and wastage of time.
The governor arranged a special reception for orphans and persons with disabilities on the green lawn of the governor House. About 2000 from various orphanage houses and other organizations attended the reception.
A large number of people including political workers, businessmen and senior officers of the civil bureaucracy also attended the function.
The governor observed that the economic conditions of the country were not in good condition, adding "We are facing economic and political challenges."
Therefore, he said that since he had taken oath of his office, he was calling for developing consensus to take the province forward according to our customs and traditions.
But, the whole country had witnessed that a political party was following a single point agenda of how to create anarchy in the country and aggravated both political and economic situations and created hurdles in bringing improvement in them, he added.
Haji Ghulam Ali said that as now the provincial assembly had been dissolved as per wish of a particular political party, then today he was appealing to the nation particularly to youth, general public and all segments of the society to keep into consideration who had brought the country to the current situation.