'Pakistan in the Eyes of Geologists' published in China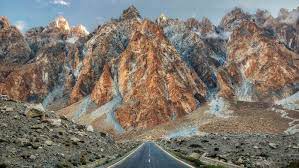 Beijing: A book titled "Pakistan in the Eyes of Geologists", a scientific monograph led by China-SCO Geo-sciences Cooperation Research Center was published recently by Geology Press.
The book is divided into six parts, which took three years to complete in collaboration with eight institutions from both China and Pakistan, including China-Pakistan Joint Research Centre on Earth Sciences.
From the perspective of geoscientists, it describes the natural scenery, geological evolution, and mineral resources, and highlights projects of northern Pakistan all the way to the south, with Karakoram, China-Pakistan Friendship Highway as the main line, China Economic Net (CEN) reported.
Epitomizing Chinese geoscientists serving the construction of the Belt and Road Initiative (BRI) and supporting overseas investment and cooperation of mining enterprises, it introduces the history of China-Pakistan geoscience cooperation over the past ten years with a combination of graphics and text.
Dr. Zhang Huishan, co-author of the book said, "Geology is one of the key areas of cooperation under the China-Pakistan Economic Corridor. Practical cooperation between China and Pakistan in mineral resources and mountain hazards will further promote local economic development and build a closer China-Pakistan community of a shared future."
Nong Rong, the Chinese Ambassador to Pakistan, and Hou Zengqian, an academician of the Chinese Academy of Sciences, wrote prefaces for the book respectively, giving full recognition to China-Pakistan cooperation in the geological survey and the original aspiration and significance of the book.
According to the publisher, the book shows traditional geological work and portrays the subtle emotions of geologists, encouraging more people to understand and participate in geological work, adding to the construction of BRI.
In addition, the short film "Building Dreams to the West – Exploring Lead and Zinc Resources and Serving the Nation", which has the same theme as the book, tells the arduous journey of Chinese geological scientists in exploring lead and zinc mines under BRI. The video is currently available on ScienceNet.cn and other platforms.