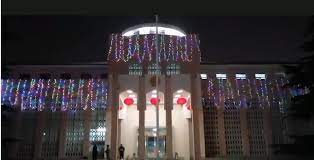 Beijing: Pakistan Embassy building in Beijing was decorated with lights and traditional lanterns to sharing joy of the Chinese friends on the occasion of the Chinese New Year and Spring Festival starting from January 22.
Foreign Minister Bilawal Bhutto Zardari in a video message felicitated the people of China on the auspicious occasion and said, "I like to wish a Happy New Year of Rabbit to people of China."
He hoped this year would take relations between Pakistan and China to new heights.
In his message, Pakistan Ambassador to China Moin ul Haque congratulated the people of China on the New Chinese Year of Rabbit and extended warm greetings and best wishes for peace, health, success and prosperity to Chinese friends all over the world.
Chinese New Year is the festival that celebrates the beginning of a new year on the traditional Chinese calendar.
The first day of the Chinese New Year begins on the new moon that appears between January 21 and February 20.
This year's Spring Festival, or the Chinese New Year, which is the Year of the Rabbit, falls on Sunday, January 22. It is the most important holiday in the Chinese calendar and an occasion for family reunion.