'Sadiq, Amin' confesses to investing $3 mln charity funds in housing society: Marriyum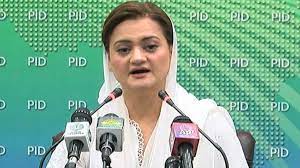 Islamabad: Minister for Information and Broadcasting Marriyum Aurangzeb said on Sunday that so-called "Sadiq and Amin" had admitted to investing Shaukat Khanam Cancer Hospital's $3 million charity fund in a housing society.
While taking a jibe at Imran Khan, in a statement she said that "Saqib Nisar's 'Sadiq aur Amin' admits to investing Shaukat Khanum's $3 million charity fund in a housing society".
The minister said that the people of Pakistan had given Zakat funds for Shaukat Khanum Hospital, not for the private housing society.
Referring to double standards of Imran, she said he accused others of theft but now himself confessed to stealing and misuse of charity money.
Marriyum Aurangzeb said that Imran did not even get approval from the board of directors of the hospital while investing millions of dollars of charity money.
She termed Imran a swindler and fraud who had stolen Toshakhana gifts and misappropriated Zakat funds.
She said that Imran did not consider the plunder of Toshakhana gifts and misappropriation of £ 190 million any issue.
For him 5-carat diamond or getting foreign funding against the national interests was not a crime, she maintained.
She said that 458 Kanal land was taken as a bribe in the name of Al-Qadir Trust, and Bushra Bibi sold every job and every appointment in Punjab.
On the contrary, she said against his political opponents whom he called thieves he could not prove false accusations in any court in Pakistan or in Britain.
She opined that this was the reason Imran Khan did not appear in courts because he would have to confess to all the crimes he had committed.