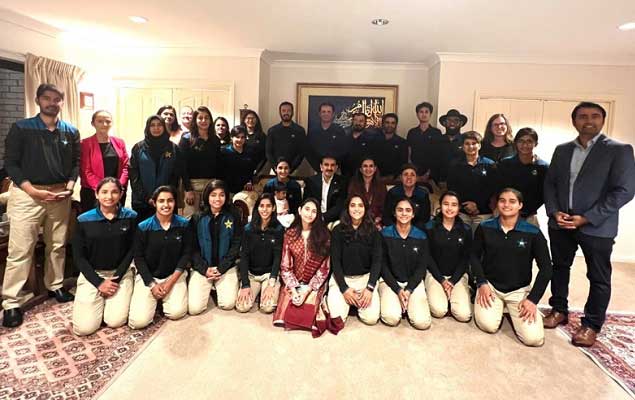 Canberra: High Commissioner Zahid Hafeez Chaudhri hosted a dinner in honour of Pakistan Women's National Cricket Team at Pakistan House, Canberra this week.
The Team is visiting Australia for a One Day Internationals (ODIs) and Twenty-Twenty Internationals (T20s) Series.
During their tour, theTeam played threeODIs and three T20s against Australia Women's National Cricket Team. In addition, the Team also played a friendly match against the Governor-General's XI.
Speaking on the occasion, the High Commissioner appreciated the team's performance, especially some truly outstanding individual performances.
He called the Green Shirts an inspiration for all young girls and women in Pakistan who aspire to take up Cricket. He appreciated the Team's great effortand role in promoting women's Cricket in Pakistan. He wished the Team all the best for their future endeavours.
The High Commissioner also thanked Cricket Australia for hosting Pakistan Women's Cricket Team. While speaking about Cricket as a national passion, he particularly appreciated the Pakistani Community in Australia for supporting the Green Shirts.
Speaking on behalf of the entire team and the management, Pakistan Cricket team's Captain Bismah Maroofand Team Manager Ayesha Asher thanked the High Commissioner for his great support and hospitality.