Barkhan incident probe be expedited, strict penalty for criminals involved: Sherry Rehman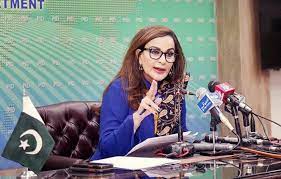 Islamabad: Federal Minister for Climate Change Senator Sherry Rehman on Friday demanded that the Barkhan district incident should be investigated as soon as possible and the criminals involved in the incident should be severely punished.
In a series of tweets, the federal minister expressed her resentment on the tragic incident of torture and killing of innocent people in the reported private jail of Balochistan Minister for Construction and Communications Sardar Abdul Rehman Khetran.
Sherry posted on her twitter handle, "Whatever the motives and reasons behind the tragic and condemnable incident of Barkhan, it is a question mark on the overall consciousness of our society."
"What century do we live in where the powerful have built private prisons? Where people, women, and children are tortured and their bodies are thrown into a well?", she wrote.
The senator said that the postmortem revealed heart-wrenching facts. "Nothing can undo what the victims and their families have gone through. Heinous violence, killings, and desecration of dead bodies have left us all bowed in shame", she said.