Rome: It's normal for the first lady to accompany their spouses who are heads of state to visiting nations.
The role of the First Lady is usually reserved for the wife of a sitting president.
Laura Mattarella, 56, is the first child and the only daughter of President Sergio Mattarella.
Mattarella is currently in Kenya on an official visit and held talks with President William Ruto at the State House and later addressed a joint press conference on Kenya – Italy bilateral ties.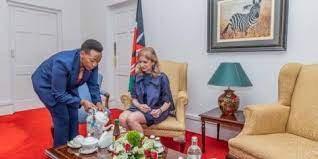 Mattarella was elected into office in 2015 and is currently serving his second term. Laura's mother, Marisa Chiazzese was married to President Mattarella until her untimely death in 2012.
Together they had three children; Bernardo Giorgio, Francesco, and Laura, who is the firstborn and only daughter in the family.
When Laura's father became president in 2015, Laura sacrificed her career as a lawyer in order to take up the role of First Lady. She is married to Cosimo Comella and blessed with three children.