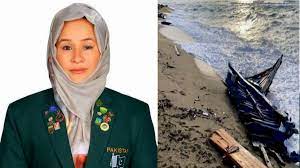 Karachi: The dead body of Shahida Raza, who drowned in a migrant boat accident in Italy, has arrived in Karachi.
Shahida Raza, a professional hockey player from Pakistan, tragically lost her life in a shipwreck off the coast of Italy while attempting to seek medical treatment for her three-year-old son. According to her sister, Saadia Raza, Shahida had called from the ship, which had departed from Turkey, to inform them that she was about to arrive in Italy and was looking forward to bringing her son for treatment.
However, the call abruptly ended, and they were unable to reach her again. The shipwreck claimed the lives of over 60 people, including Shahida, and was carrying passengers from Afghanistan, Somalia, Syria, Pakistan, Iraq, and Iran, all trying to cross illegally into Europe.
Now her remains have been brought back to Pakistan. The body was transported from Italy to Karachi via Istanbul, Turkey, before being scheduled to arrive in Quetta via Pakistan International Airlines (PIA) flight PK310. The remains of Shahida Raza will be handed over to her family upon arrival in Quetta.
Shahida was one of four Pakistanis who lost their lives in the tragic incident, which claimed the lives of over 60 people, including immigrants from Afghanistan, Somalia, Syria, Iraq, and Iran.
The news of Shahida's untimely death shocked the entire nation, particularly the sports community, which had mourned the loss of a talented athlete who had dedicated her life to representing Pakistan at the national and international levels. Her death has once again highlighted the dangers and risks associated with illegal immigration and the lengths to which people are willing to go to seek a better life for themselves and their loved ones.