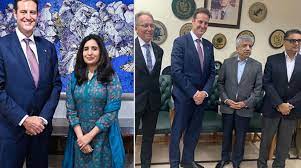 Islamabad: The Australia-Pakistan Senior Officials' Talks, held in Islamabad, Pakistan on 16 March 2023, reflected Australia's longstanding engagement with Pakistan, and its critical role in regional security and developments, said a statement by the Australian High Commission.
Gary Cowan, First Assistant Secretary, North and South Asia Division, Department of Foreign Affairs and Trade (DFAT), led the multi-agency Australian delegation. Ambassador Mumtaz Zahra Baloch, Additional Secretary Asia & Pacific, Ministry of Foreign Affairs, led the Pakistan delegation.
Discussions covered international and regional developments including the situation in Afghanistan, terrorism, transnational crime, human rights, development cooperation, and climate change. Australia outlined its approach to the QUAD and AUKUS, including the positive role they can play in regional security and stability, and acknowledged Pakistan's call for more international assistance for the Afghan people.
Australia and Pakistan also maintained our ongoing dialogue on economic collaboration at the ninth meeting of the Australia Pakistan Joint Committee on 16 March 2023, hosted by Mr. Ahsan Ali Mangi, Additional Secretary, Trade Diplomacy, Pakistan Ministry of Commerce. The Committee explored ways to increase the trade relationship and noted the significant growth in Pakistani students studying at Australian universities, and that Australia's bulk food exports (including canola and pulses) helped to support Pakistan's food security.
"The meetings underscored the constructive relations between Australia and Pakistan. With a strong foundation in people and sporting links, there is significant scope to further build our relations," the statement said.