China's Shandong Xinxu Group Corporation plans to build industrial park in Pakistan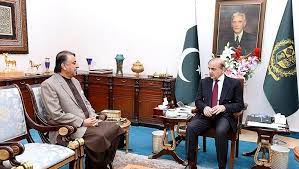 Islamabad: Chairman Shandong Xinxu Group Corporation China Hou Jianxin said that the Chinese company planned to build industrial park in Pakistan.
In a meeting here with Pakistani Federal Minister for Commerce Syed Naveed Qamar, Hou Jianxin, maintained that while taking the benefit of the decision of Shandong government, a Chinese province, to shift Chinese industry to the Pakistan, he came up with the vision to build industrial park in Pakistan.
"The Industrial Park would serve as a focal point for all the industrial requirement of Pakistan from China and vice versa," he added.
Hou Jianxin stressed that the projects like solar panels assembly plant, metal refining plants, fertilizer production plant and food processing plants (dry milk production, seafood processing, meat processing) were being considered for future investment.
He said Pakistan and China enjoyed strong relations and expressed the hope that the trade and economic ties between the two countries would be further cemented with the passage of time.
On the occasion, Federal Minister Syed Naveed Qamar appreciated barter trade model, which he said could be utilized for enhancing the exports from the country.
The minister informed that framework on barter trade model had been approved by the Federal Cabinet.
The minister mentioned that China was playing a significant role in the economic development of Pakistan however added the barter trade model would inject new energy to the bilateral trade.
He also assured full support of Pakistani government to the Chinese Companies to enhance export volume of the country.
Qamar appreciated the decision of the Shandong government to shift its industry to the Pakistan, which would not only save foreign reserves but also create job opportunities in the country.
However, the minister sought comprehensive proposals from the Chinese companies who were interested in shifting their businesses to Pakistan, which would be forwarded to the board of Investment (BOI) for expediting the investment process.