All state institutions responsible for writ of government: Marriyum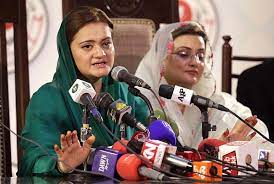 Lahore: Minister for Information and Broadcasting Marriyum Aurangzeb said on Saturday that all state institutions were responsible for the establishment of the writ of the government.
Allowing the accused to come to courts with crowds would give a message that the justice system and law in Pakistan were afraid of terrorists, thugs, goons, threats and abuses, she said while addressing a press conference here.
Stating that Imran's antics were giving the wrong message that powerful people were above the law, the minister said that Imran Khan was not afraid of playing with national interests, hatching conspiracies and blatantly violating the law and the Constitution.
The minister questioned whether the justice system was "afraid of terrorists and petrol bombs". "When a Ladla (a darling), a hooligan, a scoundrel comes to courts like this and he gets a bundle relief package from the court, it gives the wrong message," she maintained.
She said that Imran Khan illegally dissolved the National Assembly fearing the success of the no-confidence motion by compelling the President, Speaker and Deputy Speaker National Assembly to violate the Constitution.
The minister said Imran Khan had brainwashed the youth and has been instigating them to attack the state and national institutions.
She lamented that "a thief, a terrorist and corrupt person" was still at large. She reminded that Imran Khan has not appeared in this case since the start of its hearing in the Election Commission of Pakistan from 18 August 2022.
The minister said that on August 18, August 21, 2022, January 31, 2023, February 7, 2023, Imran Khan did not appear in the Islamabad High Court. On January 31, when Imran Khan was to be indicted, he got exemption from personal appearance. She said that he did not appear in Islamabad High Court on March 9,2023 and he got relief from there too.
On March 13, again he did not appear in the court again and the session court issued his non-bailable warrants and the police wasordered to arrest Imran Khan and present him in the court where he was to be charge sheeted.
She rebutted Imran's statements in the foreign media in which he had claimed that he had been given bail by the court. The minister termed Imran a habitual lier who gives excuses of his old age and health problems.
Rejecting Imran's claim about bail in Toshakhana case, she said if he had bail why he presented the excuse of disability and disease and why he did not show the police personnel the bail orders who had come to arrest him. She also questioned why Imran gave the undertaking if he had secured bail.
She said that today, Imran Khan was going to Islamabad with gangs of goons armedwith batons and weapons. "Popular political parties do not need people from banned organizations to protect them," she remarked.
She said this person was involved in hitting the policemen and attacking police vans with petrol bombs but he was not given punishment. The minister said if such a person gets relief from the court, then the state loses its importance. She said that one court orders that he should be arrested and produced in the court, the other court provides relief to him.
This person, she added had blown up the court orders in the air as the police had gone to Zaman Park to implement the court orders of his arrest.
Marriyum Aurangzeb said that tens of thousands of citizens of Pakistan stand in queues in hope of justice from courts every morning carrying files of pending cases for years. In contrast, she said Imran Khan goes to the courts for bullying and gets relief.
Marriyum said that it was completely unfair if a person who has been committing terrorism in broad daylight got a relief from the court.
She said all the PML-N leaders including Nawaz Sharif, Shehbaz Sharif, Hamza Shehbaz, Shahid Khaqan Abbasi, Miftah Ismail, Khawaja Saad Rafique, Salman Rafique, Hanif Abbasi and others presented them before the court during the fascist rule of Imran Khan and never resorted to violation of law and the Constitution.
She said the ribs and bones of journalists were broken during the rule of Imran Khan while some of them were either shot in their bellies or kidnapped for criticizing his government's performance. The international magazines declared Imran Khan a "predator" for journalists.
The minister said "fascist Imran Khan" looted the country with both hands after sending all the opposition leaders behind the bars and now he resorted to violence, vandalism and arson when the courts were asking him to answer about these crimes.
She said Imran Khan should show some courage and present himself before the court to clarify that he did not steal watches from Toshakhana if that be the case.
Whether all the accused persons could take that plea before the courts that they could not appear before the courts for having life threats, the minister questioned, adding Imran Khan did not care about the life threats when he resorted to attack the courts and state.
She said Imran Khan was accompanied by the Gilgit Baltistan Chief Minister for his today's hearing in a court in Islamabad so that he could get full security from the GB police. He had pit the Khyber Pakhtunkhwa police against the Federal and Punjab security forces during his long march and today he wanted to use the GB police for the same purpose.
He was also accompanied by an armed force of his workers to prevent his indictment in a case today by creating a fearful environment.
She said Imran Khan was responsible for economic turmoil, unemployment and inflation in the country. He, while being into power for four years, plunged the country into economic quagmire and now even after his ouster from power was bent upon creating political and economic instability in the country.
Marriyum said terrorism was rearing its head in the country due to Imran Khan led government's policies.
She said the country could not move forward until Imran Khan was brought under the law. "It is the responsibility of all the state institutions to bring Imran Khan under law who wants civil war in the country."
There were no innocent people hiding in Zaman Park residence of Imran Khan, rather they were armed terrorists, she said, adding that a popular leader did not seek support of the banned outfits to achieve his objectives.
To a query, she said that Prime Minister Shehbaz Sharif had rolled out a historic Ramzan relief package for the masses despite the tough condition of the International Monetary Fund. It was the first time in the history that supply of free wheat flour had been started in different provinces in the wake of Ramazan.
The minister said that the Punjab Police had concluded an operation at residence of Imran Khan in Zaman Park after an anti-terrorism court issued search warrants.
Unravelling PTI's nexus with anarchy, Police recovered slingshots and petrol bombs while miscreants were firing at police personnel from inside the residence, she added.
The minister said that the PTI has transformed itself into an armed group which harbours extremist ideology and practices unconstitutional politics of agitation. Pakistan, she said was bigger than any political party and there was no room for destructiveness and savagery aimed at creating chaos and lawlessness.
In order to impede due process of law, the PTI workers were resorting to arson and hooliganism outside the premises of judicial complex. " Police is showing incredible restraint despite repeated attacks and provocative acts of armed PTI workers and any malicious designs to create chaos have been foiled."
She said Imran Khan first signed an agreements with the IMF on tough conditions and then violated them with impunity which resulted in sheer inflation and economic instability. It was only Nawaz Sharif who had completed the IMF programme in an effective way and the prices of commodities were not increased during his previous government tenure, she added.
The minister said that the incumbent government had capacity and vision to to steer the country out of current economic crises. "It is our belief and faith that we will fulfill our promise with the masses and serve them