Beijing greenlights operation of unmanned self-driving vehicles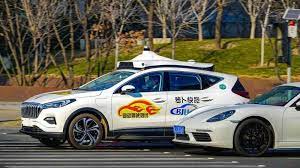 Beijing: Beijing greenlighted the commercial operation of autonomous driving service without in-car safety supervisors for the first time on Friday.
The first batch of two fully-driverless ride-hailing platforms, which were operated respectively by Chinese tech giant Baidu and autonomous vehicle startup Pony.ai, received approval after a three-month pilot program on public roads.
The pilot program involved the unmanned autonomous vehicles' ability to deal with complex scenarios such as intersections, narrow roadways, as well as extreme weather conditions like rain, snow and sandstorms.
Previously, safety supervisors were required to stay in the driver's seats, passenger seats or second-row seats when the vehicles underwent road tests and commercial operation.
The permit allows Baidu and Pony.ai to provide fully driverless rides without a safety supervisor aboard in a 60-square-kilometer area of the Beijing Economic-Technological Development Area.
Residents can summon a driverless car without a safety supervisor inside to travel to various destinations, such as subway stations, key commercial areas, public parks and residential communities, through mobile applications.
(Editor:Liao Yifan)