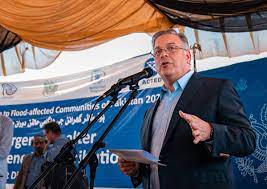 Islamabad: US Ambassador Donald Blome on Monday said the U.S.-Pakistan Green Alliance Framework was a prime example of the strong and enduring partnership that would continue to improve the lives of Pakistanis and Americans and have a positive global impact.
He was speaking at the CASS Ambassador Lecture on 'Pak-US Relations: The Way Forward' organised by the Centre for Aerospace & Security Studies, here a news release said.
Donald Blome, a seasoned diplomat, who earlier served in Tunisia, discussed the 75 years of bilateral relations between the two countries, especially decades of development assistance which had supported the construction of schools, hospitals and built highways throughout the country, as well as education through its scholarship programmes.
He appreciated the important role being played by Pakistani Diaspora in business and government who had built a network of personal and professional connections that had established a strong foundation for the Pak-US relationship.
He also highlighted the long history of humanitarian work from the earthquake of 2005 and floods of 2010 and 2011 to the recent devastating super floods in the country to ensure Pakistanis in need received life-saving assistance.
Moderated by Ambassador Jalil Abbas Jilani, Advisor to CASS on Foreign Affairs, the talk was followed by a candid Question/Answer session between the Ambassador and participants who included serving and retired military officers, academia and diplomats.
Delivering his Concluding Remarks and Vote of Thanks, President CASS Air Marshal Farhat Hussain Khan (Retd) thanked the guest speaker and was hopeful that the strong foundations of US-Pak relationship would further strengthen their bilateral ties, especially inclusive economic growth, and regional peace and prosperity.