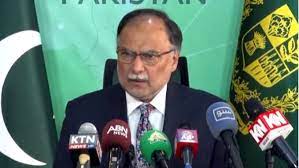 Islamabad: Federal Minister for Planning, Development and Special Initiatives Ahsan Iqbal has said that many successful power projects have been introduced under the China-Pakistan Economic Corridor (CPEC).
Addressing the launching ceremony of PM's Youth Development Initiatives under the vision of Prime Minister Shehbaz Sharif, he informed that the government had added 11-megawatt of electricity to the national grid system in 2018 and also rid the country of the menace of terrorism.
"In addition, it also introduced many successful projects under the CPEC," he added.
The situation, he maintained, was so encouraging that even United Kingdom and the United States were seeking investment opportunities for their companies in CPEC.
He reiterated that political stability was a must for taking the country towards progress, prosperity, and a bright future.
"If we want to lead the country towards progress, then we need to ensure political stability and continuation of policies," the minister stressed.
Ahsan Iqbal mentioned that the youth form two-thirds of the country's population hence there was a dire need to provide them with opportunities for education, skill development, and employment for a brighter future.
He said being the minister for planning it was his responsibility to lead them to a better future so that they could play a due role in the economic development of the country.
Terming the youth as the future of Pakistan, the planning minister urged the young generation not to pay heed to anybody's propaganda, adding that they should take steps to keep in view their goals and objectives. He said Pakistan was recognized in the world by its youth who have been studying in top educational institutions across the world.
The mister underlined the need for providing sports facilities to young people saying as many as 250 mini-sports complexes would be established in the country to help them harness their talent.
Ahsan Iqbal reiterated his commitment on the 75th birth anniversary of the country to lead the country towards development and include it in top economies. He said there was no dearth of resources however there was a need to ensure stability in politics and policies.
He also highlighted the importance of ending polarization, adding, nobody should be allowed to impose his/her ideas on others.