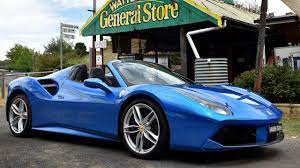 Florence: A supercar-driving American has fallen foul of the law in Florence.
According to US publication CNN, the US tourist parked a high-priced supercar right in the middle of Florence's Piazza della Signoria, which is only open to pedestrians.
The square is a well known tourist hotspot that is home to the Palazzo Vecchio and near the Uffizi gallery.
The vehicle was parked in a tourist hotspot near the Palazzo Vecchio.
The vehicle was parked in a tourist hotspot near the Palazzo Vecchio.
A statement from Italian officials says the driver was fined €470 ($757).
"Checks revealed that the 43-year-old driver had an American driving licence that did not comply with international conventions and did not have an international driving permit or official translation," a statement from the Municipality of Florence said.
"A report was taken for parking in the pedestrian area, driving against the direction and having non-compliant foreign licence, the fine was a total of 470 euros, which he paid directly to the agents."
"One more 'ugly American' tourist," said one user. "American tourists are notoriously the most disrespectful," another said.
"Adding 'American' is redundant. The entire world knows it was an American," added another.
Others quipped the fine was like loose change to someone like that.
"500? He surely pays it like he pays for the coffee in the morning. Means nothing for someone who can afford to drive this car," one user said on Twitter.
The vehicle appears to be a Ferrari 488 Spider, which retailed for well north of $500,000 in Australia when new.
Spider stands for convertible in Ferrari speak. and the 488's hard-top roof can be opened or closed in about 14 seconds and at speeds of up to 45km/h.
The two seat supercar uses a mighty twin-turbocharged V8 engine that makes a whopping 492kW and 760Nm or about five times the power of a Toyota Corolla hatchback.