Pakistan needs to take sustainable water management measures for secure future: Sherry Rehman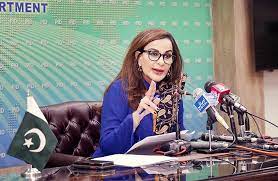 Islamabad: Federal Minister for Climate Change Senator Sherry Rehman on Wednesday said in order to secure the future of the country it was necessary to take sustainable water management measures.
In her message on World Water Day on Twitter, the federal minister said World Water Day was being celebrated all over the world including Pakistan.
Senator Rehman said, "Water is the basic right of every citizen, survival of life depends on water. Being an agrarian country, we are highly dependent on water resources."
However, she said due to the effects of climate change, Pakistan was facing a severe water crisis.
"Pakistan is one of the most water-scarce countries in the world. According to the United Nations, if timely measures are not taken, Pakistan will suffer from drought by 2025. On the other hand, Pakistan is among the countries with the highest per capita water consumption," Sherry Rehman added.
The Minister underscored that there was a need to use water in a disciplined manner.
"It is a national duty of all of us to use water carefully and conserve water resources. International Water Day is a reminder for us," Sherry Rahman added.