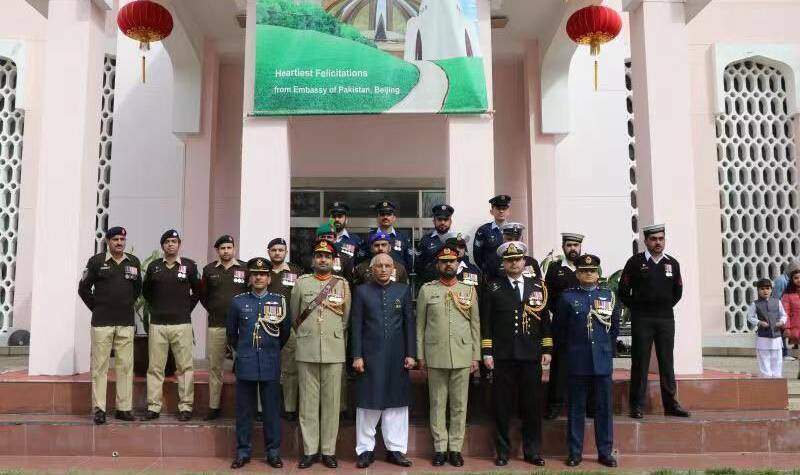 Beijing: Pakistan Day was celebrated with national spirit and great fervor at the Embassy of Pakistan, Beijing here on Thursday.
Pakistan Day commemorates the passing of the Lahore Resolution on March 23, 1940, when the All-India Muslim League demanded a separate homeland for the Muslims of the British Indian Empire.
The ceremony commenced with the recitation of verses from Holy Quran. Pakistan Ambassador to China, Moin ul Haque raised the national flag and hoisted it to the mast's summit, with the invigorating tune of the national anthem.
The messages of Presided Dr. Arif Alvi and Prime Minister Shehbaz Sharif were read out on the occasion.
Addressing on the occasion, Ambassador Haque paid glowing tribute to the relentless struggle of Quaid-e-Azam Muhammad Ali Jinnah and other founding father of the nation.
He said that 83 years ago, father of the nation Quaid-e-Azam Muhammad Ali Jinnah presented the demand for an independent Muslim state in the subcontinent. And with the support of the millions of Muslims of the subcontinent, the dream of independence was translated into a reality on 14 August 1947.
Ambassador Haque said that Pakistan and China were all-weather friends and strategic cooperative partners and both the countries under the guidance of respective leadership would take the friendship to an even higher level in the future.
He thanked the Chinese government and people for extending unprecedented help during last year's devastating floods in Pakistan.
Reiterating Pakistan's principled stand over Kashmir issue, the ambassador said that Pakistan would continue to extend its moral and diplomatic support to Kashmiris in their struggle for the right to self-determination granted by the United Nations Security Council (UNSC) resolutions.
Ambassador Haque remarked that today, Pakistan was a fifth largest nation with 220 million proud, hardworking, and talented people.
"Our armed forces and other security agencies along with the people have made unmatched sacrifices to protect the nation and fight against extremism and terrorism," he added.
He also appreciated the member of Pakistani community living across China for their contributions and for representing Pakistan while being away from their homes and families.
The ceremony was attended by senior officials, businessmen, teachers, students, media persons and Pakistani community in China.