Kingdom stood by Pakistan through thick and thin since its independence: Saudi envoy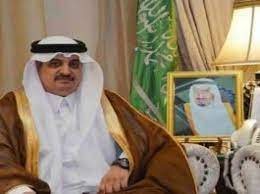 Islamabad: Saudi Ambassador Nawaf bin Said Al-Malki, reviewing the historic relations between two brotherly countries, said the Kingdom had always stood by Pakistan through thick and thin since its independence in 1947.
Addressing an event, organized by the embassy's media bureau, the other day, to confer awards to winners who participated in a short video competition on Pakistan and Saudi Arabia relations, he said Saudi Arabia paid special attention to its relations with Islamic countries, particularly Pakistan as it was one of the most important Islamic countries for the Kingdom.
The Saudi envoy said, "The relationship between two countries is based on sincerity, brotherhood and pure love for each other."
He, eulogizing Saudi Press Attaché Dr. Naif Alotaibi and his team for organizing such an informative activity on behalf of the royal embassy, felicitated the winners of competition and expressed the hope that it would further boost their confidence and help them in their future endeavors.
During his welcome address, Dr. Naif Alotaibi said this healthy competition was organized to celebrate 70-year bilateral relations between the two countries as in March, 1953 the Governor General of Pakistan Ghulam Muhammad during his first official visit to Kingdom of Saudi Arabia held an exclusive meeting with King Shah Abdul Aziz bin Abdur Rehman Al-Saud.
Briefing the audience, he informed that the royal embassy received 114 videotapes on Pak-Saudi relations which had always been a fascinating chapter in the diplomatic history of two countries.
He said the videos were of good quality and content adding that out of the total, ten documentaries were selected for the prizes.
The first prize holder got $2,000 while those who stood second and third were given $1,500 and $1,000, respectively, he said adding that the remaining seven video clip makers received $500 each, however, other contestants were awarded vouchers of SAR 2,000 and free visas to perform Umrah.
It is worth mentioning here that a silent video enthralled the audience very much as the story was a mouth-piece of overseas Pakistanis who were not only earning bread and butter for their families but also adding a huge foreign exchange in the national kitty.
It showed that after the death of a Pakistani laborer, how the Saudi government supported his family and translated his daughter's dream into reality of becoming a doctor in the life.
There were other videotapes which showed that how Saudi Arabia was helping Pakistan at trying times throughout history.