MoU signed to project environment in CPEC projects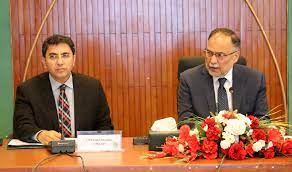 Gwadar Pro
Islamabad: The Sustainable Development Policy Institute (SDPI) and World Wildlife Fund (WWF)-Pakistan have signed a Memorandum of Understanding (MoU) to strengthen research, technical support and policy influencing to take into consideration the ecological, biodiversity protection and environmental concerns in development projects under the China-Pakistan Economic Corridor (CPEC).
The cooperation between SDPI and WWF-Pakistan also aimed to bridge the gaps in policies of environmental protection, and ecological and biodiversity conservation during the planning and execution of infrastructure projects and reinforce green transition in infrastructure development in CPEC projects.
Dr Shafqat Munir, Deputy Executive Director, SDPI said that the cooperation between SDPI and WWF is not new and stems from the keen interest of both organizations in environment and conservation strategies.
He expressed that the formalization of this cooperation will pave new ways for both organizations to collaborate in different areas of research and extend technical support to public institutions.
He further said that energy, transport and agriculture contribute the major carbon footprint and both organizations can play a critical role in advocating the case of climate finance onwards to COP28 and beyond to support the green transition in these areas.
Rab Nawaz, Senior Director of Conservation and Biodiversity, WWF-Pakistan said that "Pakistan is at the crossroads of climate change and today's actions will determine if Pakistan is going to emerge as the Climate Champion or Climate Victim".
Neshmiya A. Khan, Manager, Policy and Safeguards, WW-Pakistan stressed evaluating the impacts of infrastructure development on ecology and biodiversity and taking measures to mitigate these impacts. She said that local communities welcome infrastructure development and investments, but the key is to ensure they are sustainable and do not threaten the historic biodiversity and local ecology.
Ubaid ur Rehman Zia, Senior Research Associate, SDPI said that China has emerged as a global leader in environmental conservation and protection by transforming its Belt and Road Initiative into a model of green development.
He further said after infrastructure development, the cooperation under CPEC has extended in the realms of climate-smart agriculture, renewable energy and green transportation.
He sustained that research and technical assistance in facilitating the uptake of these technologies was crucial for the sustainable economic development of the country.