Judiciary responsible for establishing full court bench to end ambiguity on poll decision: Sherry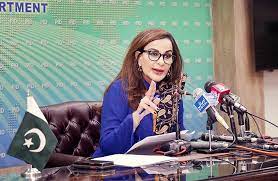 Islamabad: Federal Minister for Climate Change, Senator Sherry Rehman on Tuesday said it was the responsibility of the judiciary to form a full court bench to clear the questions and ambiguities raised on the court decision pertaining to provincial elections of Punjab and Khyber Pakhtunkhwa (KP) provinces.
In a series of tweets, she underscored that the government had already demanded a full court bench on the issue.
Senator Rehman said so far, bar councils and legal experts were even not able to agree that the judicial decision of the elections in Punjab and KP was of 3:2 or 4:3.
"The resolution of this constitutional and electoral dispute lies only in the Full Court Bench. Two judges who have raised questions on the judiciary's powers are also of a very serious nature. It is the duty of the High Court to review the objections raised within the bench," she said.
If the full court bench, she said was not formed, more questions would arise on the impartiality of the judiciary and the decision, the matter would become more confused instead of being resolved.
"There is no room for further uncertainty in this matter of elections and constitution," Sherry Rehman added.