China-made buses to soon run on Quetta roads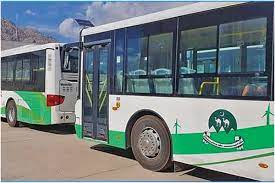 Gwadar Pro
Quetta: Pakistani Balochistan province will soon have China-made green buses running on its capital Quetta's roads, the government said.
Balochistan Chief Minister Mir Abdul Qudoos Bizenjo informed that a green bus service would soon be launched in the city of Quetta.
The CM directed the Chief Secretary of Balochistan to ensure that the service is operational within the next three months.
The green bus service, having China-made environment friendly buses, is expected to provide an honorable mode of transportation to the citizens of Quetta, improving the daily commute for the people.
The CM's decision is part of the government's efforts to enhance public transportation in the region.
In addition to the green bus service, the CM also shared that the construction and extension of Saryab road would be completed by May, while other developmental projects, including Saryab road, will be completed soon.
China-made buses are popular in Pakistan and have been running on roads across many cities including Karachi and Lahore.
The Chinese buses are environment friendly and fuel efficient and an attraction amid historic rise in fuel prices.