China has always helped Pakistan in 'dire times,' Senate Finance Committee meeting told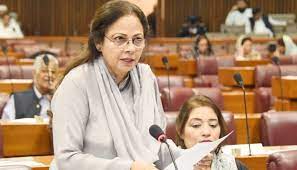 Islamabad: Minister of State for Finance and Revenue Senator Aisha Ghaus Pasha has told a Senate Finance Committee's meeting that China had always helped Pakistan in 'dire times.'
The state minister made these remarks during the Senate Finance Committee's meeting, which met under the chairmanship of Senator Saleem Madviwala, to discuss the economic situation and the International Monetary Fund (IMF) programme.
The State Minister further mentioned that China had always helped Pakistan in dire times, while Pakistan will also secure funds from Saudi Arabia and the United Arab Emirates (UAE) soon.
She was referring to Iron Brother China's decision last week to roll over its safe deposit of US $2 billion with Pakistan on the existing terms as Islamabad's foreign exchange reserves escaped further decline.
This was a major development to secure a staff-level agreement with the IMF as for the revival of the stalled loan programme with the IMF, Pakistan had to confirm external financing with the fund. Beijing has rolled over the safe deposit with Pakistan for a year.
Pakistan is also seeking to get US $ 2 billion from Saudi Arabia, while meetings were underway to get US $ 1 billion from the United Arab Emirates.
Senator Aisha Ghaus Pasha told the meeting that China's help in 'dire time' was a regular part of the iron-clad friendship.
Pasha noted that the incumbent government was facing an 'unusual situation' in regaining the IMF trust, adding that several difficult decisions were taken for the revival of programme. However, she added, there was nothing to worry about as Pakistan will soon unlock the loan tranche following assurances to the Fund from friendly countries.
"We need the cooperation of friendly countries," she maintained, adding that the government was in constant contact with countries and progress will be made soon.
Pasha's remarks came as Chinese Foreign Ministry spokesperson Mao Ning said China appreciated the statement of Prime Minister Shehbaz Sharif that Coal project was transforming Thar, a desert region, into a power source for entire Pakistan and serving country's economy and people's wellbeing.
She was responding to the question about Prime Minister Shehbaz Sharif's inauguration of a coal power project built under the framework of the China-Pakistan Economic Corridor. The PM had told the audience at the event that this project will give a big boost to Pakistan's economy in the coming years.
Chinese Foreign Ministry spokesperson Mao Ning stressed that the Thar project was an epitome of the CPEC. As an important flagship project of the Belt and Road Initiative, CPEC has made good headway with fruitful outcomes in energy cooperation.