Attacks on transgender rights in US 'must end': Biden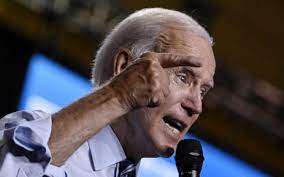 Washington: The assault on transgender rights in the United States "must end", President Joe Biden said on Friday, denouncing recent moves by some conservative-led states to restrict minors' access to medical transition procedures.
"No one should have to be brave just to be themselves," the US president wrote in a statement marking the International Transgender Day of Visibility.
"Transgender Americans deserve to be safe and supported in every community –- but today, across our country, MAGA extremists are advancing hundreds of hateful and extreme state laws that target transgender kids and their families," he said, referring to the Republican Party's hard-right wing.
"These attacks are un-American and must end," Biden continued.
A growing number of Republican-controlled states, most recently Kentucky and West Virginia, have moved to ban minors from access to medical transition procedures.
"I want every member of the trans community to know that we see you. You're each made in the image of God, and deserve love, dignity, and respect. You make America stronger, and we're with you," said the 80-year-old Democrat, a devout Catholic.
Transgender-related issues have become yet another facet of the divisive US "culture war", as Republicans attempt to position themselves ahead of next year's national elections as the party of parental rights.
Last week, the Republican-led US House of Representatives signed off on legislation asserting the right of parents to know if their child's school allows transgender students in bathrooms or to join sports teams that do not correspond with their biological sex.
Such initiatives often go hand in hand with restrictions on teaching gender and sexuality in schools, and restrictions on drag shows, and are often in the same states that have curtailed abortion rights for women.