Justice Hilali takes oath as first woman chief justice of Peshawar High Court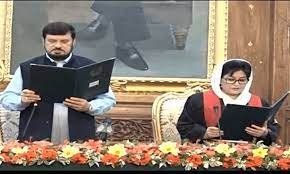 Peshawar: The Peshawar High Court has got its first woman chief justice in the history of Khyber Pakhtunkhwa, as Justice Mussarat Hilali took the oath of her office on Saturday.
Upon the retirement of PHC Chief Justice Qaiser Rashid Khan on March 30, the most senior judge of the court, Justice Noorul Amin Khan, was appointed as the acting CJ. But his stint lasted a day only.
After Justice Khan's retirement on March 31, a day after he took over as the acting CJ, Justice Hilali had been appointed as the first woman acting chief justice of the PHC.
The president had appointed Justice Hilali as the acting CJ until the appointment of a regular incumbent.
Justice Hilali was appointed as the additional judge of the Peshawar High Court in 2013 and became a regular judge in 2014.
CJ Hilali's tenure will end in August. She will serve as the chief justice of the PHC for five months.
Born on August 8, 1961 in Batkhela village of Malakand division, Justice Hilali received her primary education in her local area and then moved to Peshawar for higher education. After obtaining an LLB degree from the Peshawar University's Khyber Law College, she started practicing law as a profession.
She obtained her district court license in 1983, high court in 1988 and then the Supreme Court in 2006.
Justice Hilali played a central role in the lawyers freedom movement of 2007. One of her legs was also fractured while being arrested during the movement.
She also has the honor of being the vice president of the PHC, as well as the first woman additional advocate general of KP.
Women lawyers welcomed the appointment of Justice Hilali as the first woman chief justice of the PHC.