Istanbul: Julia Ituma, an 18-year-old Italian volleyball player, has died after allegedly falling from a window in a hotel in Istanbul, where her team, Igor Novara, played a Champions League quarter-final match against Eczacıbaşı Dynavit.
"Igor Volley all wishes to express its condolences and participation in the pain of Julia's family and loved ones. The club and all its members, heartbroken by the loss, will keep a respectful silence on the matter," her club said in a release.
The club then specifies that the Turkish police are investigating the incident.
The 18-year-old, born in Milan to Nigerian-origin parents, allegedly fell from the window of the hotel room where she was staying with the team, while the cause behind the fall has not yet been clarified.
Ituma, who won the European Women's Under-19 Championship with Italy, was considered a bet on the future.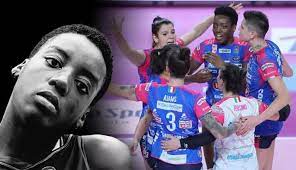 "We are all dismayed by this tragedy which affects not only the volleyball world but all of Italian sport. Today we mourn the loss, not only of a great talent, but above all of a wonderful 18-year-old girl who we have seen grow closely, season after season," said Italian Volleyball Federation President Giuseppe Manfredi, while expressing his condolences for the tragic loss of Ituma.
"We are in constant contact with Igor Novara and with the president of the Turkish Federation to give all possible support."
The Italian federation has ordered a minute of silence in memory of her for all the volleyball matches that will take place until April 16.