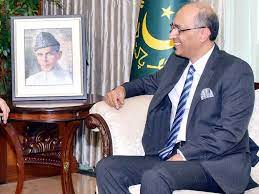 Beijing: Pakistan Ambassador to China Moin ul Haque has expressed appreciation to China for helping more than 200 Pakistani nationals' evacuation from Sudan.
During a meeting with Liu Jinsong, director-general of the Department of Asian Affairs of the Foreign Ministry of China, Haque said that China's assistance demonstrated once again how strong the Pakistan-China friendship is.
Liu said that as China tried its best to ensure that Chinese nationals were evacuated from Sudan in a safe manner, it also helped some people from other friendly countries including Pakistan to leave the African country, which demonstrated the iron-clad friendship between China and Pakistan as well as its responsibility as a major country.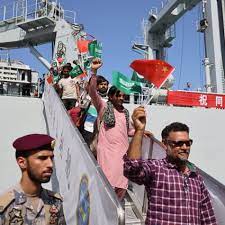 On April 29, the spokesperson for Ministry of Foreign Affairs, Mumtaz Zahra Baloch, took to Twitter to express gratitude towards China for evacuating a group of 216 Pakistani citizens from Port Sudan to Jeddah aboard China's Weishanhu naval vessel.
In a tweet, the spokesperson wrote: "A batch of 216 Pakistani nationals arrive in Jeddah from Port Sudan aboard Chinese Navy's Weishanhu today. We are grateful to our Chinese friends for this gesture of support and friendship."
Currently, 573 Pakistani citizens have been safely evacuated from Sudan through the collaborative efforts of Pakistan and China, including the latest batch of 97 individuals who arrived at JIA in Karachi via Jeddah on a PAF C-130 aircraft this morning.
Earlier, Mumtaz Zahra Baloch tweeted that the safe evacuation of every Pakistani and bringing them back home remains the "top priority."