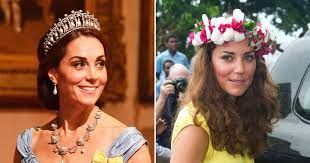 London: Kate Middleton will reportedly opt for a floral headpiece over a tiara for the upcoming Coronation ceremony this week.
The Princess of Wales, 41, initially speculated to wear to tiara but according to The Times, Kate is "planning to wear a floral headpiece." Moreover, the outlet stated that there are also "rumours within palace circles that no royal women will wear tiaras."
While it is still unknown what king of floral headpiece the royal will go for, but whatever style she wears will weave nicely with King Charles' and his passion for preserving it.
According to royal biographer Sally Bedell Smith told The Times that "the sight of the Princess of Wales in a floral crown will set a particular tone, showing the King's reverence for nature and his passion for flowers."
She further added that as the wife of the future king, Prince William, Kate will "setting an example for the other women in the congregation, who might find it awkward to even think of wearing tiaras."
Tiaras have been a symbol of the monarchy as royal women have donned the glittering diadems at royal occasions such as State banquets and Coronations.
Lauren Kiehna, writer of The Court Jeweller told People Magazine, "Tiaras were worn by nearly every royal lady at the Queen's coronation in 1953, as well lots of aristocratic women but times have certainly changed in 70 years."