Muttaqi urges countries to take advantage of Afghanistan's policy of regional connectivity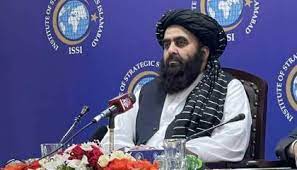 Islamabad: Acting Foreign Minister of Afghanistan Amir Khan Muttaqi on Monday said the interim Afghan government had made the region's decades-long aspiration of connectivity a reality so not only Afghanistan but also the entire region, particularly the CARs, could reap the benefits of that policy.
Muttaqi, in his 'Public Talk', organized by the Centre for Afghanistan, Middle East and Africa (CAMEA) here at the Institute of Strategic Studies, said his country's focus had not just been on its own economy but it was also continuously striving to increase regional connectivity and energy cooperation through mega projects like TAPI, CASA-1000, Trans-Afghan railways, and connecting South Asia to Central Asia through Afghanistan thus paving the way for greater integration.
Responding to a question regarding terrorism and TTP, the acting Afghan foreign minister categorically reaffirmed that Afghanistan would never allow its territory to be used against any country, including Pakistan. He added that the request to resolve the issue through dialogue as well might also be considered.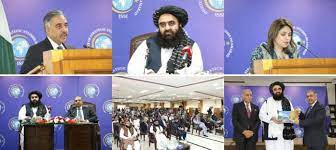 He told the gathering that the interim government had overcome several challenges and that its first order of business was to convey to the region and beyond the desire to form a "new foreign policy" based on cooperative dialogue and joint ventures.
Muttaqi highlighted that, despite facing numerous challenges after assuming power, the interim government had been able to attain progress in numerous fields.
Contrary to the last 20 years, it was the first time in decades that Afghanistan was funding its national budget without any foreign assistance and loans, he said.
About Pakistan-Afghanistan bilateral relations, Acting Foreign Minister Muttaqi said ties between the people of Pakistan and Afghanistan had been sacrificed at the altar of political considerations in the past, resulting in the loss of a lot of opportunities.
He said both countries had been facing similar challenges over the past two years; even though the manifestations were different, the pain was common for both.
He was of the view that his administration was resolved to turn the challenges into opportunities and take firm steps that help integrate the two economies so that there can be "cascading effects".
He said the two countries should leverage their God-given opportunities to build their future. The economic ties should be de-linked from political considerations and forward movement ensured through joint efforts, particularly in the fields of infrastructure and transportation, he added.
Moreover, he also emphasised focus on increasing management capacity, development in the fields of trade and commerce, and making customs' procedures transparent, digital and easy.
He said Pakistan-Afghanistan ties were beyond the neighbourhood. Besides shared religious and cultural values, both countries were interrelated in economic issues as well.
Responding to questions regarding women's rights, Acting Foreign Minister Mutaqqi said female education was neither un-Islamic nor banned permanently; the decree was only suspended till the second order.
On the recently-concluded Trilateral Foreign Ministers' dialogue between China, Pakistan and Afghanistan, he said they had held important deliberations where the three sides agreed on not allowing any individual, group or party to use their territories to harm and threaten regional security and interests or conduct terrorist actions and activities.
In his welcome remarks, ISSI Director General Sohail Mahmood underscored the importance of Acting Foreign Minister Amir Khan Muttaqi's visit to Pakistan and highlighted the uniqueness of the Pakistan-Afghanistan relationship in view of the indissoluble bonds between the two peoples.
"There are no other two countries in the region that have so much in common as Pakistan and Afghanistan do, which makes positive mutual engagement a matter not of choice, but of necessity," he said.
Sohail Mahmood recalled the events since August 15, 2021 and Pakistan's steps bilaterally, regionally and internationally to support the fraternal people of Afghanistan including through humanitarian and economic support, facilitation of bilateral trade and transit trade, and regulated cross-border movement.
He also highlighted the international community's expectations from the interim authorities including inclusivity, human rights of all citizens of Afghanistan, and counter-terrorism actions. He stressed that Pakistan had also remained bilaterally engaged with the authorities in Afghanistan to ensure that terrorism and security-related issues were effectively addressed.
CAMEA Director Amina Khan, who moderated the event, said the visit of the acting foreign minister was a continuation of Pakistan's political engagement process with Afghanistan and the event was held at CAMEA's efforts to reinforce bilateral relations.
The event was attended by a large number of former diplomats, members of the Islamabad-based Diplomatic Corps, academics, researchers, representatives of civil society, and print and electronic media.
The event concluded with ISSI Board of Governors Chairman Khalid Mahmood presenting the Institute's shield to the guest.