Islamabad: The maiden flight of Ethiopian Airlines from Ethiopia with high-powered official and government delegations aboard was accorded a warm welcome when it landed at the Jinnah International Airport of Karachi on Tuesday.
Ethiopian Ambassador to Pakistan Jemal Beker Abdula received the delegations from Ethiopia at the airport along with Sindh Chief Minister Syed Murad Ali Shah and other provincial ministers and businessmen, an embassy press said.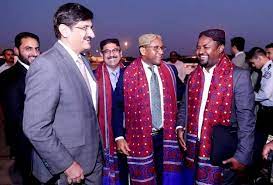 A reception and inauguration ceremony was also held at the airport, followed by a cake cutting.
Speaking on the occasion, the ambassador said Ethiopian Airlines would operate four flights a week from Addis Ababa to Karachi and vice versa, which would transform the whole landscape of the two countries' bilateral relations by giving a major boost to people-to-people and business-to-business contacts.
He extended gratitude to all those who supported the Ethiopian Embassy in starting the flight operations of Ethiopian Airlines from Karachi.