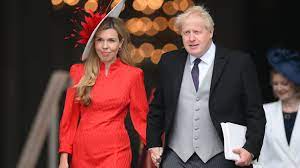 London: Former UK Prime Minister Boris Johnson's wife Carrie announced her third pregnancy this morning, saying she was "just a few weeks" out from giving birth.
Sharing the news of a "new team member" on Instagram, Carrie Johnson said she had "felt pretty exhausted for much of the last 8 months" but was excited to meet her next little one.
In the announcement post were pictures of Carrie walking hand-in-hand with her first two children Wilfred and Romy, aged 3 and 1 respectively, and of one of her kids' hands on her pregnancy bump.
"Wilf is [very] excited about being a big brother again… Don't think Romy has a clue what's coming… She soon will!" Carrie wrote.
The couple married in May 2021, Boris Johnson becoming the first British prime minister to be wed while in office in nearly 200 years.
The former UK leader will become a father for the eighth time.
He had four of his children with his second wife Marina Wheeler, and another as the result of an affair.
He did not have any children with his first wife Allegra Mostyn-Owen.