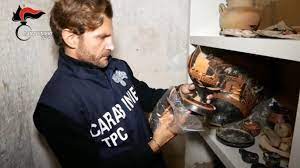 Rome: Sixteen people were arrested and more than 3,500 artefacts were recovered as Italian police broke up what they called a ruthless network of archaeological looters and international traffickers in ancient Greek and Roman relics.
Those arrested face charges including criminal conspiracy, illegal digging, theft, trading in stolen goods, and illegal export of goods, the art squad of the Carabinieri police said in a statement on Wednesday.
Another five suspects evaded arrest but were ordered to report to police, while dozens more were placed under investigation following a number of raids carried out across the country.
The Carabinieri recovered hundreds of gold, silver and bronze coins from ancient Greek and Roman times, as well as jewellery, plates, cups, jars and miniatures dating from the 4th century BC to the 3rd century AD.
The items, sourced from illegal digs in the southern regions of Puglia, Campania and Basilicata and due to be smuggled abroad, have "priceless historical and artistic value and enormous commercial value," police said.
The operation shows how Italy "still holds immense treasures that fall prey to ruthless diggers and traffickers," Carabinieri art squad commander General Vincenzo Molinese said.
Italy has long had a problem with the looting and smuggling of its artistic and archaeological heritage, but authorities have in recent years had more success in tracking down criminals and recovering stolen goods.
To showcase their efforts, a Museum of Rescued Art was inaugurated last year in Rome, putting on display dozens of statues, jars, urns, plates and coins in a section of the Baths of Diocletian, once the Roman empire's largest spa.