Italy: Thousands of stolen artifacts recovered by police
Rome: Thousands of artifacts of historical and financial value, including items taken from graves and archaeological digs, have been recovered in Italy following a huge operation, authorities have said.
Italian police have arrested 21 out of 51 suspects in an operation which included hundreds of officers, authorities said at a press conference in the southern Italian region of Puglia on Wednesday.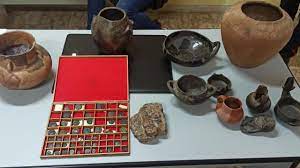 Those arrested are under investigation for "numerous clandestine excavations, receiving stolen goods and illicit marketing, nationally and internationally, of very important archaeological finds," said Renato Nitti, chief prosecutor in charge of the investigation in Trani, Puglia, in a press statement.
Authorities recovered 3,586 pieces of "inestimable historical, artistic and commercial value" in Puglia, Basilicata, Campania, Abruzzo, Lazio and Trentino Alto Adige, said Vincenzo Molinese, head of Italy's Carabinieri art police, at the press conference.
They also recovered 60 metal detectors and other objects consistent with clandestine excavations, including long metal spikes and shovels.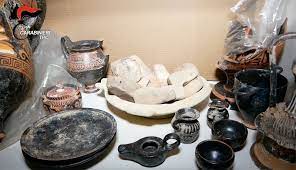 In the northern Italian municipality of Lavis, 1,679 bronze and silver archaeological coins – from Magna Graecia, Roman and Byzantine mints – dating to between the 4th century BC and 3rd century AD were uncovered. Hundreds of coins dating to the Roman Imperial era were found in the the city of Ciampino, near Rome.
Loom weights, bell-shaped craters, jugs, cups, plates, miniature vases and oil lamps were among the valuables recovered in the southern town of Spinazzola.
The recovered artifacts included items taken from graves and archaeological digs.
Many of the artifacts were taken by "tombaroli" – or grave robbers – in Campania, Basilicata and Puglia and trafficked across Italy and internationally to art collectors, authorities said.
Most are not documented and never-before-seen pieces taken directly from unexplored archaeological digs, added authorities.
"The investigation made it possible to ascertain and curb an impressive predatory action to the detriment of the archaeological heritage of our territory, of the exceptional cultural richness," public prosecutor Nitti said at the press conference.
Nitti said the operation "demonstrates how our territory still holds immeasurable treasures," attracting "robbers and unscrupulous traffickers."
The investigation began last year after several clandestine digs were discovered in the Canosa region of Puglia, from where all of the items are thought to have originated.
The looting of ancient art in Italy is not a new phenomenon.
It emerged that the Covid-19 pandemic had offered thieves new opportunities to raid closed archaeological sites, churches and museums for priceless artifacts while police were reassigned to enforce lockdowns.
Arthur Brand, one of Europe's foremost art detectives and author of "Hitler's Horses: The Incredible True Story of the Detective who Infiltrated the Nazi Underworld," told CNN in 2021 that at least half of ancient Roman artifacts on the market then were stolen.