Youm-e-Takbeer, a day of nation's remarkable journey towards credible minimum deterrence: PM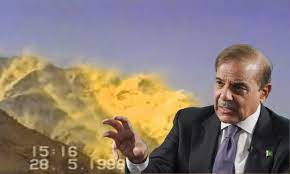 Celina Ali
Islamabad: Prime Minister Muhammad Shehbaz Sharif on Sunday said that Youm-e-Takbeer was not just a day but a story of nation's challenging and remarkable journey towards establishing credible minimum deterrence.
The prime minister on his Twitter handle that on that day, Pakistan set a redline for its defence and laid down rules of the game for peace and stability in the region.
"On the Silver Jubilee of Youm-e-Takbeer, I pay rich tributes to the political & military leadership, scientists, engineers and all those who remained associated with our nuclear programme," he said in a tweet as the nation celebrates the 25th anniversary of Youm-e-Takbeer on Sunday.
The prime minister further said that their hard work, commitment and determination made it possible for the people to guard their independence from any physical threat.
"The day represents how the consensus between all elements of national power achieved what once looked like an uphill task," he posted in a tweet.
The prime minister said Shaheed Zulifkar Ali Bhutto was a visionary who initiated the nuclear programme, adding in a show of bold leadership, his leader Mian Nawaz Sharif firmly rejected the policy of stick and carrot and made sure that the country became nuclear.
"All along, our armed forces remained a guardian & protector of the programme in the face of malign intentions of our enemies," he said.