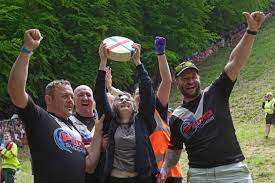 London: Hundreds of spectators gathered to watch dozens of reckless racers chase a 7-pound wheel of Double Gloucester cheese down the near-vertical Cooper's Hill, near Gloucester in southwest England.
The first racer to finish behind the fast-rolling cheese gets to keep it. The cheese-rolling race has been held at Cooper's Hill, about 100 miles west of London, since at least 1826, and the sport of cheese-rolling is believed to be much older.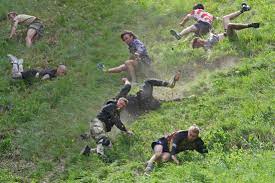 The Cooper's Hill Cheese-Rolling and Wake is an annual event where participants race down the 200-yard (180 m) long hill chasing a wheel of double gloucester cheese.
The rough-and-tumble event often comes with safety concerns. Few competitors manage to stay on their feet all the way down the 200-yard hill, and this year several had to be helped, limping, from the course.
Canadian contestant Delaney Irving, 19, won the women's race despite being briefly knocked unconscious.
Participants compete in the downhill race during the Cheese Rolling contest at Cooper's Hill in Brockworth, Gloucestershire, Monday May 29, 2023.
"I just remember hitting my head, and now I have the cheese," said Irving, who comes from Nanaimo, British Columbia.
Matt Crolla, 28, from Manchester in northwestern England, won the first of several men's races. Asked how he had prepared, he told reporters: "I don't think you can train for it, can you? It's just being an idiot."