China Road and Bridge Corporation hands over building of Chinese camp at Hazara Motorway to AUST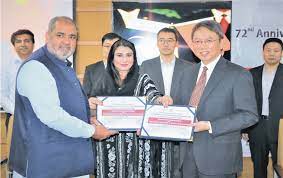 Havelian: A delegation from China Road and Bridge Corporation (CRBC) visited the Abbottabad University of Science and Technology (AUST) in Havelian and handed over the building of the Chinese camp at Hazara Motorway to AUST.
The event was part of celebrating the 72nd anniversary of diplomatic relations between Pakistan and China and the 10th anniversary of the Belt and Road Initiative (BRI) and the China-Pakistan Economic Corridor (CPEC).
The delegation was led by Deputy General Manager CRBC Pakistan Liu Chong. General Project Manager Wang Hui.
The Vice-Chancellor AUST Professor Dr Malik Mujaddid-ur-Rahman welcomed the delegation and emphasized the importance of CPEC for both countries.
He highlighted the 72-year-old friendship between Pakistan and China, where both nations are working together on developmental matters and promoting research and knowledge exchange. He expressed his hope that this journey would continue in the future.
Liu Chong thanked the Vice-Chancellor and assured him that China would continue to work on developmental projects in Pakistan.
The Vice-Chancellor and the Secretary of Higher Education presented shields to the guests. The Chinese delegation also exchanged shields with the Vice-Chancellor and the Secretary of Higher Education.
The event included the distribution of awards for the approved projects of the National Research Program for Universities (NRPU) where Principal Investigator (PI) Dr Aazam Hayat received Pakistan Rs 10,315,800, Dr Muhammad Tariq Rahim received Pakistani Rs 2,337,500, Dr Fawad Hussain was given Rs 3,015,100, Dr. Muhammad Mudassir Khan was awarded Rs 8,350,000, Dr Hazrat Ali was given Rs 2,860,000, Dr Abrar Khan received Rs 6,358,000 and Dr Yaser Saeed was given Rs 3,207,600.
Dr. Anila Mahfooz Durani congratulated all the PIs on their success and highlighted the importance of a research-oriented environment in universities.
She expressed satisfaction that Pakistan and China while being steadfast partners in the journey of friendship and national development, are also playing a significant role in promoting education and research.
The special guest commended Vice-Chancellor Professor AUST Professor Dr. Malik Mujaddid-ur-Rahman for his commitment to advancing research and acknowledged the collaborative efforts between top educational institutions worldwide, including renowned universities in China.
She praised the Vice-Chancellor's personal interest in the progress of Abbottabad University and affirmed that Higher Education Commission (HEC) will continue its support for the bright future of the university.