Italy: 'New Michelangelo' bringing sculpture into 21st century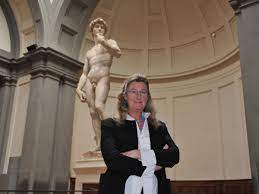 Rome: You may think being described as "the new Michelangelo" would be a daunting prospect for an Italian sculptor but Jacopo Cardillo, AKA Jago, takes it in his stride.
The 36-year-old has earned widespread praise for his modern twists on classical-style sculptures, as well as a large following on Instagram. Last month the first museum dedicated to his work opened in Naples, drawing more than 5,000 visitors in one day.
"I believe that people making that comparison are doing so to explain the work … I don't think they intend to draw a real parallel," he said in an interview. "My only interest is to become the best version of myself, not the best version of someone else."
Art critics noticed Jago's talent from the outset. At just 24, he was selected to participate in the 54th edition of the Venice Biennale, exhibiting a marble bust of Pope Benedict XVI that earned him the Pontifical Medal. In 2013, when Benedict announced his resignation, he transformed the work, "stripping" the statue of papal clothes and leaving Benedict XVI bare-chested.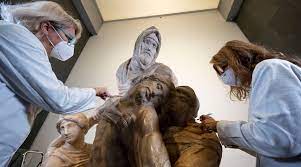 In 2019 he sent one of his works – a statuette titled First Baby – into space as part of the European Space Agency's Beyond project.
Jago says he has remained faithful to the sculptural techniques of Italian Renaissance artists. "First I start from a drawing, which I then transform into a small clay model," he said.
"Then I proceed to make a larger clay model, which I cover in a plaster casing." Once he has a shape for his statue he pours in plaster in liquid form. Then he makes a copy in marble.
Italian art critics have hailed his ability to capture human emotions and praised him for using traditional techniques to address contemporary issues.
"Jago is a world, he is an existence, a character," said Maria Teresa Benedetti, a prominent art critic and former professor of art history at the Academy of Fine Arts in Rome. "There is in him a very strong will to communicate."
Look Down, which depicts a newborn baby with a chain for an umbilical cord, in Naples.
One morning in November 2020, a statue of a newborn baby curled up on the ground with his eyes closed and an iron chain as an umbilical cord anchored to the floor, appeared in Piazza Plebiscito in Naples. Jago said the work, called Look Down, was intended to remind Italians of the "many people, the most needy, the poor, [who] had been made vulnerable by the social and economic consequences of the pandemic".
Jago now divides his time between Naples and New York, where he made the Veiled Son, which depicts a child lying helpless, covered by a veil. The work was inspired by Giuseppe Sammartino's Veiled Christ, which depicts Jesus covered by a transparent shroud made from the same block as the statue.
"The veil is an ingredient," Jago said. "It's like a colour on the palette. We didn't invent it; we inherited it and we decide how to use it. The intention was to use a compositional form that already exists, the veil, to tell a different story. Many people who pass in front of this sculpture offer it a kiss, because some of them see their son in it."
Returning to the Michelangelo comparison, he said: "Above all a child should be free to compare himself to the greatest in history, to aspire to greatness having as a point of reference a great master of tradition, that he should not be ashamed to say, 'I want to be better than him', because there is nothing wrong with it.
"In any case, he will be different and the same. Lionel Messi must have certainly imagined being Maradona as a child. He wore Maradona's shirt with his name on it, but in the end he became himself and did his own thing. The truth is that we can start from someone else's example to find our own path along the way, and from there our greatness."