PM Shehbaz Sharif urges Turkish businesspersons to invest in CPEC's SEZs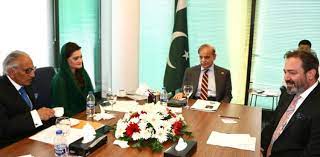 Islamabad 4: Prime Minister Shehbaz Sharif has invited Turkish businesspersons to invest in the China-Pakistan Economic Corridor (CPEC)'s Special Economic Zones (SEZs) and other ventures in Pakistan.
The PM urged the Turkish businesspersons to establish strategic collaboration in sectors of energy, agriculture, information technology and construction.
In a meeting with Chief Executives of select Turkish business Groups during his visit to Turkiye, at the invitation of President Recep Tayyip Erdogan, the Prime Minister outlined the government's vision to facilitate foreign direct investment and encouraged joint ventures.
Their exchanges spanned around expanding trade and investment ties to maximize mutual gains from available opportunities in Pakistan and to enhance cooperation in key sectors of the economy through direct presence of Turkish enterprises and via joint ventures with Pakistani counterparts.
The Prime Minister held separate meetings with leading Turkish companies that have already invested in Pakistan, including Anadolu Group, Arcelik, Zorlu, Albayrak, Limak, Dolsar, Turkish Contractors Association and Pak Yetirim.
During the meeting, the Prime Minister encouraged them to benefit from an investment-friendly environment and to expand their operations by investing in SEZs and other projects.
A considerable number of Turkish enterprises are already operating in Pakistan in various sectors and have contributed to the economic development of the country.
Nevertheless, the PM said, "there are excellent opportunities for cooperation and collaboration in the areas of energy; especially hydro and solar, housing and construction, infrastructure, tourism and transportation."