Chinese scholar vows to continue efforts to deepen people-to-people exchange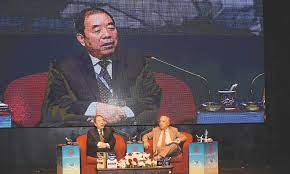 Beijing: Director of Pakistan Studies Center, Peking University of China, Professor Tang Mengsheng has expressed a commitment to continue his efforts to deepen people-to-people exchange between China and Pakistan aimed at further strengthening the all-weather friendship between the two countries.
Prof. Tang who conducted research on history, politics and culture of Pakistan and worked as interpreter during construction of Karakoram Highway (KKH) in 1970s was conferred upon with Sitara-e-Imtiaz in recognition of his meritorious services for Pakistan.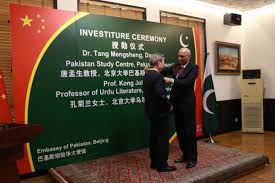 On behalf of the President of Pakistan, Ambassador Moin ul Haque conferred Pakistan's one of highest civil awards upon Prof. Tang in a special ceremony held at Pakistan Embassy, Beijing.
Prof. Tang, an ardent supporter of deepening Pakistan-China cultural and educational linkages expressed a need to further strengthen this friendship by promoting people-to-people contacts and cultural exchanges.
China and Pakistan have been enjoying friendship for the last seven decades and it has become a model for other countries, he said and added, "We should educate our younger generations to carry forward this friendship."
Prof. Tang also, served as the senior visiting scholar at the National University of Modern Languages (NUML) and Punjab University, expressed his gratitude to the government and people of Pakistan for the conferment of civil award.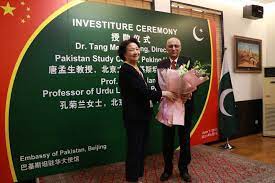 In his capacity as the Director of Pakistan Study Centre, he has played a key role in inspiring younger Chinese generation to learn Urdu and undertake research on several facets of Pakistan's society and culture.