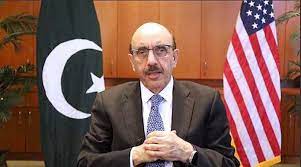 Washington: Salman Bhojani, a Pakistani-American who was recently elected to the Texas House of Representatives, met Pakistan Ambassador to the United States, Masood Khan, Wednesday and briefed him about his efforts to forge unity among Muslim communities in his state and promote trade and investment between Pakistan and Texas.
Representative Bhojani told the Ambassador said that he considered Pakistani and other Muslim communities living in Texas as his constituents and that he was focused on promoting love and compassion among them, according to a press release issued by the Pakistani embassy in Washington.
On his part, Ambassador Masood Khan congratulated him on his election and said that a sister state-province agreement between Texas and one of the provinces of Pakistan would help tap the existing potential of trade and commerce and promote people-to-people exchanges.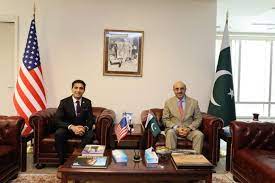 "Tech, oil and gas and other sectors provided a solid base to forge robust business linkages and bring our people closer to each other," he added.
Expressing satisfaction over the increasing number of Pak-American parliamentarians at the state and federal level, Ambassador Masood Khan said that the elected representatives could play a huge role in encouraging Pakistani Americans to invest in Pakistan. They can also facilitate Pakistani students in visiting the United States and learning from US expertise in advanced disciplines.
Discussing possible sister-state agreement with Texas, the Ambassador also appreciated the services of state Representative Farooq Mughal for the sister-state relationship between the State of Georgia and the Province of Sindh.
The Ambassador lauded Representative Bhojani for successfully introducing in the Texas Assemble a resolution on Pakistan Day to highlight the close cooperative relationship between Pakistan and Texas in trade, energy, education and cultural exchanges.
Representative Bhojani said that he would take a delegation comprising of law-makers, corporate executives, officials of the chamber of commerce and industry to promote commerce and investment between Pakistan and Texas, the press release added.