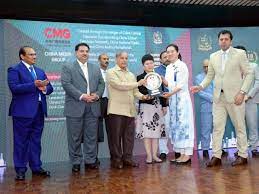 Islamabad: Prime Minister Shehbaz Sharif has awarded the Chinese companies for promoting investment in Pakistan.
The Prime Minister recognized and rewarded the best Chinese companies that are working on projects in Pakistan under the China-Pakistan Economic Corridor (CPEC).
Speaking at an award ceremony, Shehbaz Sharif said that the Chinese government and companies have helped Pakistan's industries in different ways. Their support has not only created jobs and boosted production, but also improved economic relations between the two countries, he added.
He promised to make it easier for Chinese companies investing in Pakistan, especially those involved in the CPEC. He also pledged to fully enforce the procedures and rules governing these companies.
The PM said that under the CPEC, the two countries were starting to work together more closely. As a result, the government was making it easier for Chinese companies and investors to do business in the country, he undelined.
PM Shehbaz Sharif promised the Chinese investors that their tough time is finished now. He said that everything will be done for them all together and easily. He mentioned that this will not just be said, but it will actually happen.
He said that the two countries had celebrated ten years of CPEC under Belt and Road Initiatives. He said that China has invested about $30 billion in CPEC, which has greatly changed Pakistan's economy.
"Now we are moving on to the second part of CPEC. This phase includes adding new areas like the green corridor, Information Technology, and Special Economic Zones," he remarked.
He explained that the Pakistan government started a new project called "Special Investment Facilitation Council (SIFC)".
This project will involve important groups, such as the federal and provincial governments and institutions like the Pakistan Army led by General Syed Asim Munir.
He said the Army Chief had personally helped in this program in a way that was very unique compared to the past. He was fully committed to supporting Pakistan and the people who were educated and talented but unemployed.
"The SIFC program will work together with the whole CPEC system and play a big role in fostering Pakistan's agricultural and industrial progress," the PM said.
On this occasion, the Minister for Board of Investment (BoI) Chaudhry Salik Hussain said that CPEC has brought about a new period of growth and development in different fields such as energy, infrastructure, industrial development, agriculture, science, and technology.
He said the big project would help Pakistan make their own products instead of buying them from other countries to meet their needs.
In her speech, the Chinese ambassador in Pakistan, Pang Chunxue, said that since it started in 2013, the CPEC has been a pilot project for the Chinese Belt and Road Initiatives (BRI) and has greatly helped the local people in the country with their social and economic development.
She maintained that China would always support Pakistan and work with them to improve their development and security.