Rome: At least 30 migrants are missing following two shipwrecks off the Italian island of Lampedusa, according to survivor testimony, as rescuers on Sunday winched to safety 34 others stranded on the rocks by rough seas.
Around 28 people were reported lost at sea by survivors on one boat, while three were reported missing from the second after both went down in stormy weather on Saturday, said the International Organization for Migration (IOM).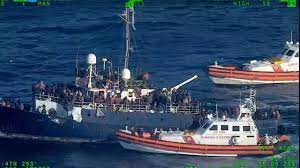 Both were rickety iron boats believed to have set off from Sfax in Tunisia on Thursday. Italy's coastguard said it had saved 57 survivors from the two shipwrecks and recovered the body of a woman and a child. It released dramatic footage Sunday of the rescues, in which people could be seen carried high on the crests of vast waves, while a coastguard vessel soared and plunged nearby.